How To Become a K-Pop Idol
How does someone become a K-Pop idol?
You might ask yourself after watching Korean boy and girl groups performing on screen.
Nowadays, many people dream of becoming a Korean music industry figure.
It's the dream job for many young South Koreans and non-Koreans alike, as even foreigners can become idols.
But before even being celebrities, idols have to start somewhere.
They are trainees first before they become K-Pop stars.
Trainees undergo several years in entertainment boarding school, training until they debut in idol groups.
For those interested in becoming one, this article will cover how to become a K-Pop idol.
So start your journey with us and carry on reading!
What is a K-Pop Trainee?
K-pop trainees are people who have signed with an agency and are receiving vocal, dance, and language lessons.
Training usually lasts for about 2-7 years.
It is not uncommon for some trainees to leave before debuting in an idol group.
They will be living at the dorms provided by agencies and be under contract during this time.
Their daily schedule will be packed with classes and activities meant to develop their skills as entertainers.
It includes taking singing classes, rapping ones, dancing lessons, and learning how to play musical instruments.
Of course, they will also need to learn to speak Korean properly.
It is especially true for foreigners aspiring to become K-Pop trainees.
However, the language barrier has been a big issue for foreign trainees in the past, as they often have trouble understanding their trainers and fellow trainees.
So it's a good habit to start learning it really early on!
What Is a K-pop Idol?
Most of them are signed under agencies and are groomed for years before their debut.
They usually start as trainees, and after a few years of training and vocal/dance lessons, they finally become idols.
Idols can also pursue a solo career if they leave their group or if their group disbands.
What does it take to Become a K-Pop Idol?
The aspirant has to be talented and determined to become a K-pop idol.
There are no shortcuts to becoming a successful K-pop star.
An aspiring entertainer will need to dedicate themself fully to the training process and put in the hard work to make their dreams come true.
In addition, they must be able to stand out from the rest of the trainees.
Being unique is one of the keys to success as a K-pop idol.
So how can you become a successful K-pop idol?
20 Tips to Become a K-Pop Idol and Start Your Journey to K-Stardom
Below, we provide you with 20 tips on how to audition as a Kpop idol.
Understand Your Responsibilities as a Trainee
Watching K-Pop idols achieve the fame they have right now makes you think that it can be the path for you.
Traveling to many countries for world tours, receiving gifts and love from a million fans, and living the celebrity life: everyone wants to have a piece of this.
But the road to stardom isn't a paved one.
Before you decide to become a K-Pop trainee, please think of the responsibilities that come after it.
Ask yourself necessary questions such as "Is the trainee life for me?"
Know that trainees have to work 24/7.
They could go on days without properly sleeping or eating.
And if they ever sleep, even in their dreams, they think of their careers.
If you think you're up for this challenge, you might have the first thing it takes to become an idol!
Be Aware of Your Financial Situation
Not only do you prepare mentally and emotionally, but you also have to prepare financially.
South Korean talent agencies won't pay for you.
What agencies do are scouting for people with potential.
Once you set foot in South Korea, especially if you're a foreigner, all expenses will be paid by you.
And it's going to be really expensive.
Just for the basics, you'll pay for classes, lodging, and food yourself.
Of course, it is not to scare you off of your dreams, but this is to caution you on the possible hurdles you'll have to face soon.
Enroll in Dance Classes
Once you have made up your mind to audition, the first thing you'll want to do is to enroll in dance classes.
Prioritize getting hip-hop and contemporary dance instructors.
Producers always prefer auditionees with exceptional dancing skills, so you'll have to give your best on this one.
In your free time, you can also learn and practice K-Pop dances.
There are tons of mirrored K-Pop dance practices you can learn on Youtube!
Start with the popular boy and girl idol groups like BTS, EXO, Twice, and BLACKPINK.
Get a Professional Vocal Coach
Getting a professional vocal coach is required before auditioning for Korean entertainment companies.
Even if you already have stellar singing abilities, having a professional's opinion can benefit you in many ways.
You can enhance your technique and develop your vocal range with proper supervision.
Singing on the right note is a big deal for producers and fans alike.
You will want their approval once you make it into K-Pop.
Practice Your Rapping Skills
In this generation of Korean pop, being able to rap is a necessary skill to have.
And it's tough to rap in Korean if you're a foreigner.
You can start by practicing tongue twisters in your own language.
Develop Lyric Composition Skills

When you become a trainee, there are times when you'll be asked to write your own song.
If the producer sees that the song you've written fits the album concept, it is more likely to be recorded and released.
This skill will also give you an edge over the millions of other auditionees worldwide.
Attend Acting Classes
Korean boy and girl idols perform on music stages and act in movies, dramas, and plays.
Some popular Korean idols have turned actors/actresses, including 2PM Taecyeon and SNSD's Seohyun.
Learn How To Speak Korean
After cultivating your individual skill, it is time for you to learn how to speak Korean.
South Koreans rarely adjust to foreigners.
It is a harsh reality, and you can't avoid it.
Being fluent in the language will at least ease your burden as a K-Pop trainee aspirant.
But you have nothing to worry about.
Korean is one of the easiest Asian languages to learn.
For starters, the Korean alphabet, the Hangul, only consists of 14 consonants and 10 vowels.
Work on Your Personality
South Korean culture is very mindful when it comes to manners and reputation.
Aside from learning their alphabet, it is also essential that you understand all the customs they observe as a society.
Some examples include bowing, using respectful language, drinking culture, and respecting your seniors.
Remember that you'll work in a group.
Having a good personality will give you more chances to survive in the industry.
Take a Good Care Over Your Physical Appearance
Talent scouts are known to invite attractive people to auditions.
It means that you will also have to excel when it comes to your face and body qualities.
Taking care of your skin and weight is the first step.
Having clear and white skin is what's accepted in South Korea.
You might have already gotten the hints that it's kind of unfair to make a selection based on ethnic groups.
However, this is how the culture is in South Korea, and Korean prefer watching idols with clear skin.
Well, not all of them, but most.
They also prefer thin stature.
Most Korean idols, especially girl idols, weigh no more than 90 pounds or mid-40 kilograms.
Entertainment agencies even force their trainees to go on strict diets just to achieve the Korean beauty standards.
Avoid Using Social Media
In the age of social media and "cancel culture," K-netizens can easily track your personal life.
They can turn your Facebook and Instagram posts and tweets on Twitter into something that might negatively affect your career.
That is why it is better that you avoid using social media as early as now.
As for the previous points, keeping a good reputation for yourself is the key to staying longer in the Korean entertainment industry.
Look For Entertainment Companies You Want to Audition
Some popular entertainment companies include SM, YG, JYP, and BigHit Entertainment.
If your financial situation allows you, you can submit audition tapes whenever there's a call for auditions or actually attend the auditions in person.
If you're below 14 years old, you must have a guardian accompanying you.
But if you're set on becoming a trainee on a specific entertainment, read on the physical and skill requirements that they're looking for.
Most companies have a specific aesthetic that they require for a trainee.
You will want to meet all these qualifications to get in.
Decide on Which Songs to Perform in Auditions
You might want to perform popular K-Pop songs such as BLACKPINK's "Whistle" or BTS' "Fire."
But to be sure, prepare at least a set of 3 songs, one of which is Korean.
It is also an advantage for you to perform an English song since K-Pop culture is about expanding to Western audiences.
Prepare a Headshot to Send Out to Producers
You can have a professional do your headshot for you.
Make sure they get a good picture of your profile and body.
Remember that South Koreans are all about looks.
Make sure producers see your authentic beauty by wearing minimal makeup.
Create Your Own Choreography
Another tip that can help you leave an impression on Korean producers is being able to create a dance routine of your own.
You can showcase this particular skill of yours during the audition.
Wear Comfortable Clothes and Little Makeup During the Audition
When making an audition tape, try to wear comfortable clothes and little makeup.
Korean agencies will want to see your dancing technique through your body movements.
Wearing fancy clothes can hinder them in assessing your skills.
And like your headshots, wearing minimal makeup during auditions is necessary for talent scouts to see the real you.
Learn from every audition while waiting for the results
Let's say you're done with auditions.
It is now time for you to wait for the results.
While waiting, review what you have done in front of the talent scouts.
Remember what needs to be improved or be discarded all together.
The life of a K-Pop trainee is all about improvement.
You should already practice this trait as early as you can.
Stay Available
You should check your emails every hour of the day.
You won't want to miss a message from K-Pop recruiters!
Read Carefully Your Contracts
Imagine that you have already received a confirmation email from an entertainment company.
You must carefully read every contract provided to you.
It will be hard to be caught in a binding contract that is surely disadvantageous to you and your career.
Be Resilient
The last tip would be for you always to be resilient.
Auditioning to become a K-Pop trainee is only the tip of the iceberg.
You might have to give up your whole childhood chasing your dream to become a K-Pop star.
Having strong willpower can be your support in trying times, especially when you're a stranger in a foreign land.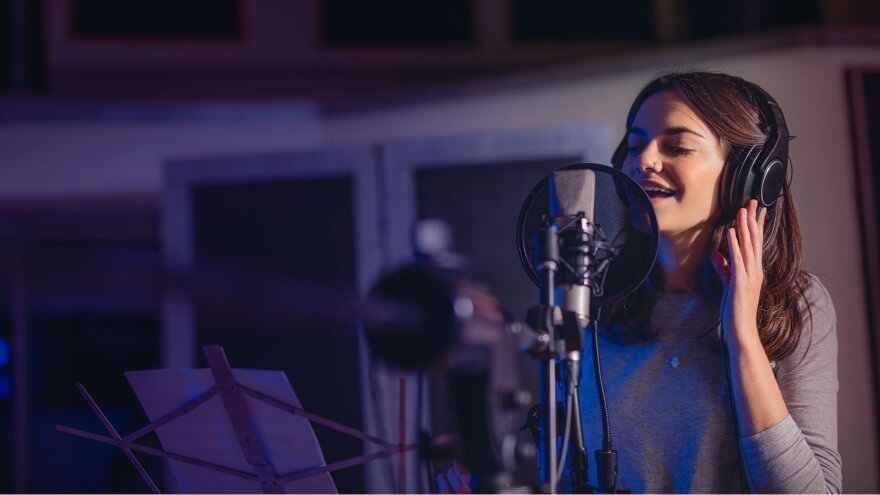 Becoming a K-Pop trainee then an idol is undoubtedly a big challenge only the bravest ones can attempt.
However, for those hard-working and aspiring to make considerable sacrifices to succeed in this career, there are chances an agency can spot you.
Be sure to take a look at our selection of the best K-pop hits of all time to find a top Korean song for your audition!
Did you find this article informative?
Let's discuss about it on our Discord channel!