30 K-Pop Idols With Meaningful Tattoos
South Korea may have been known as a conservative country, but many citizens are now starting to break social taboos after social taboos, like getting tattoos.
Among these people are K-pop idols themselves!
Nowadays, the public sees body inks as a form of self-expression and art.
Several South Korean pop idols are now trying them out with full confidence, from loose tattoos to meaningful ones.
In this article, we made a complete list of the famous K-pop stars who drove their fans crazy with their tattoos and the special meanings behind them.
Let's get started!
K-Pop Idols With Tattoos and Special Meanings Behind Them
Below are some South Korean celebrities with meaningful and beautiful body arts, starting first with girl idols to finish with boy idol ones.
Girl Idols With Tattoos
Here are some of the top South Korean women celebrities who embraced their individuality with their tattoos.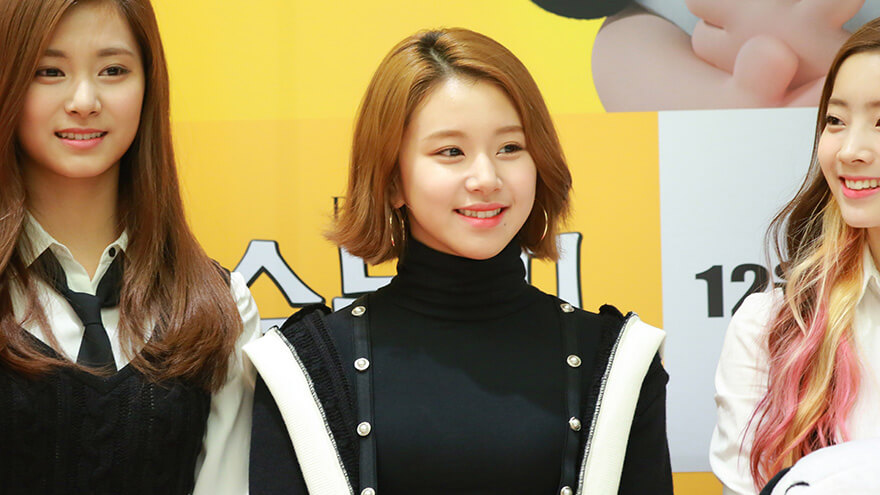 CHAEYOUNG (TWICE)
We'll start this list with TWICE's Chaeyoung, who has at least ten known tattoos.
Some of these tattoos are inked on her wrist, forearm, right ear, and many more!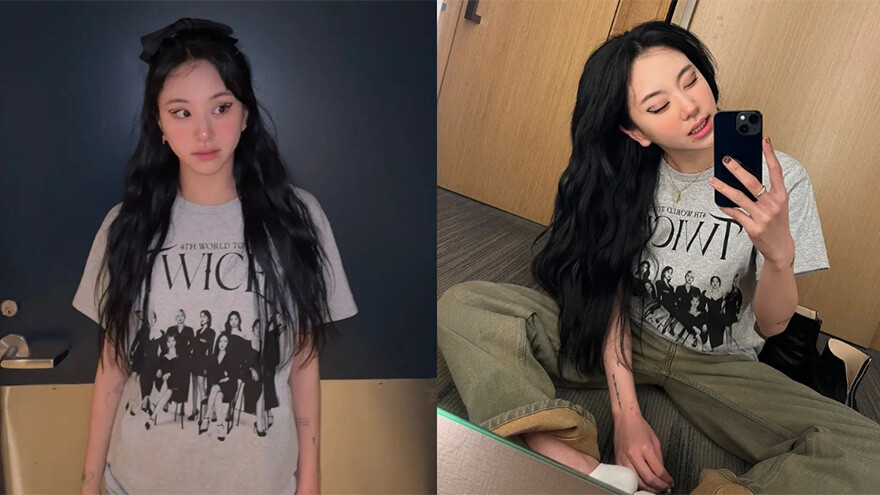 Fans speculate the meanings behind Chaeyoung's tattoos among themselves as the artist doesn't talk much about it herself.
Sadly, because of their innocent and bubbly image under JYP Entertainment, Chaeyoung has covered her tattoos with skin-colored tapes during broadcasts.
TAEYEON (SNSD)
SNSD's kid leader, Taeyeon, has around six tattoos inked on her body.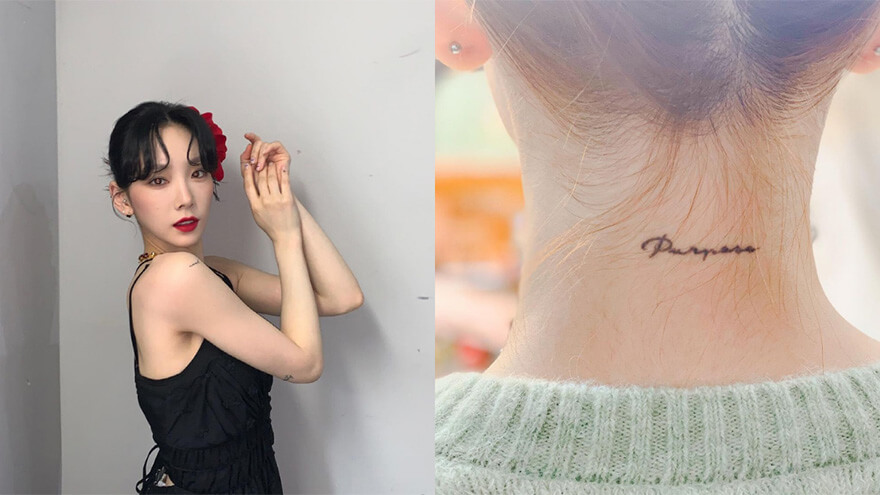 Each tattoo either represents the albums she had released or her zodiac signs, as well!
LEE HYORI (FIN.K.L)
A former member of the first-generation K-Pop group, FIN.K.L., and a nature activist.
Lee Hyori has several drawings of flowers and animals like turtles and snakes inked on her body.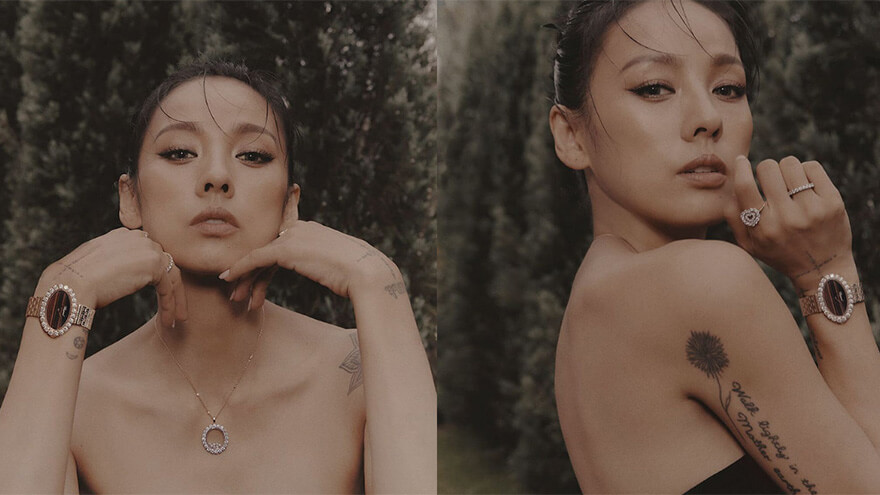 Those tattoos showing her love for the environment had freaked out her mother-in-law when they first went to a sauna together!
HYUNA
"My mother is the heart that keeps me alive" is what the tattoo on Hyuna's back says.
Hyuna wasn't able to spend much time with her mother throughout her busy career.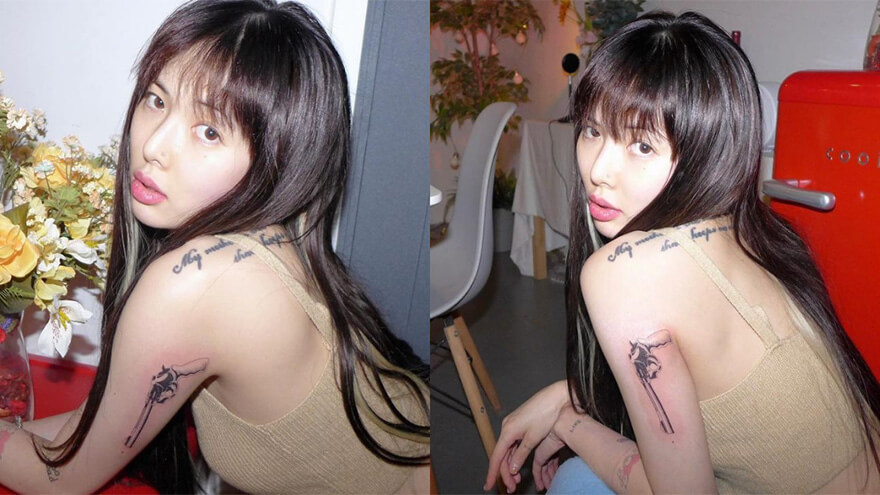 When she joined the cast of Invincible Youth, a variety show aired on KBS2, the then-17-year-old 4Minute member cried after she got to call her beloved mother.
HYOLYN
During Hyolyn's childhood, she was diagnosed with several health conditions, such as pediatric cancer.
She was even placed in an incubator to survive and has gone to many surgeries, leaving a big scar on her abdomen.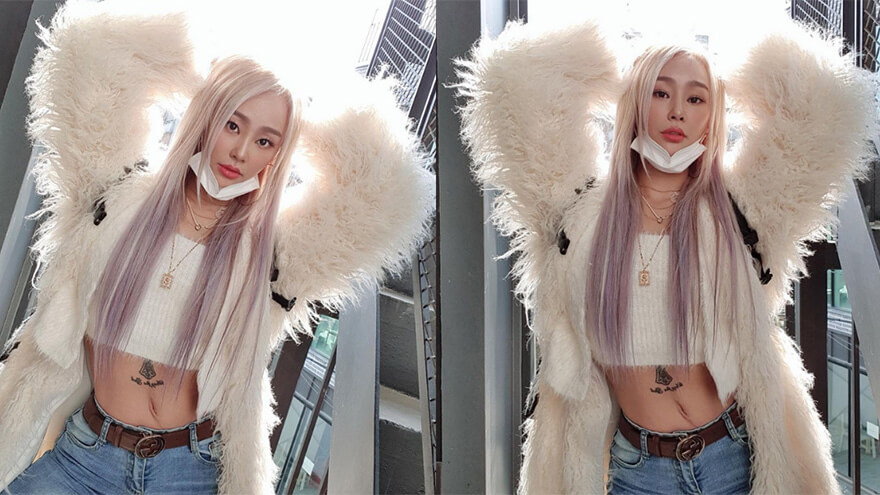 In an interview, Hyolyn revealed that covering that scar with a tattoo gave her confidence in herself and her body.
TIFFANY (SNSD)
Like her best friend, Taeyeon, Tiffany of SNSD is also a big fan of classy, minimalist tattoos.
She has a small finger tattoo that resembles a flower and also some on her rib and foot. 
Related Article: Best K-pop motivational quotes to inspire yourself
SUZY
Suzy does a great job of keeping her body arts well-hidden.
But when an opportunity arises, like CF deals and modeling offers, her fans rejoice at the sight of her minimalist tattoos.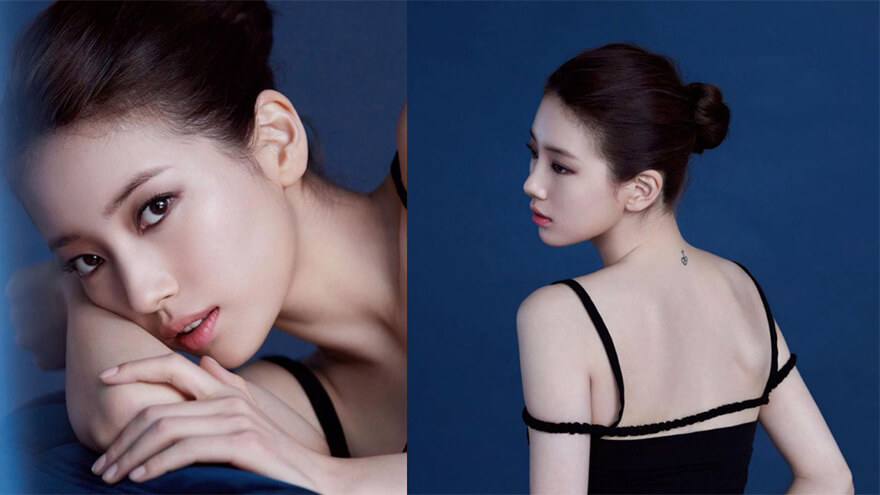 Some of Suzy's tattoos, the K-pop CF Queen, can be found on her nape and fingers.
HWASA (MAMAMOO)
Hwasa has approximately six tattoos.
One is dedicated to her baptismal name, "Maria," which can be found below her nape.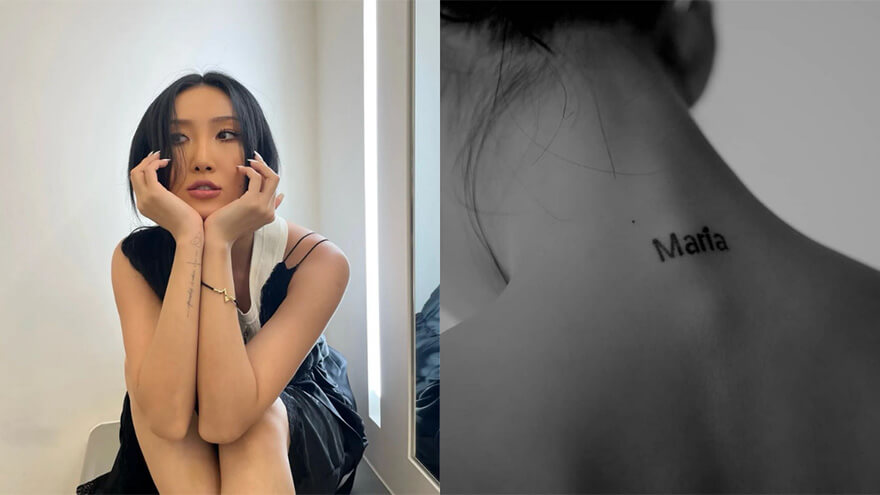 She also got inked with her best friend of ten years and co-member Wheein on her neck during their friendship anniversary.
WHEEIN (MAMAMOO)
Wheein probably has the most number of tattoos among MAMAMOO, with about ten tattoos in counting.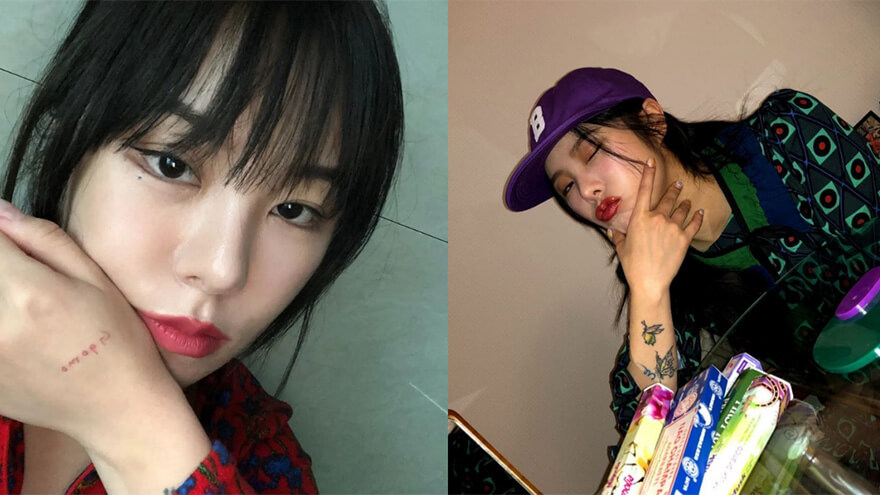 Some include her mother's English name "sophy" on her finger, a butterfly on her wrist, and a "VIVA LA VIDA" tattoo on her collarbone.
MOONBYUL (MAMAMOO)
Moonbyul inked a timeline of significant events in her life on her ankle.
She also has a portrait tattoo of her family on the back of Moonbyul's arm.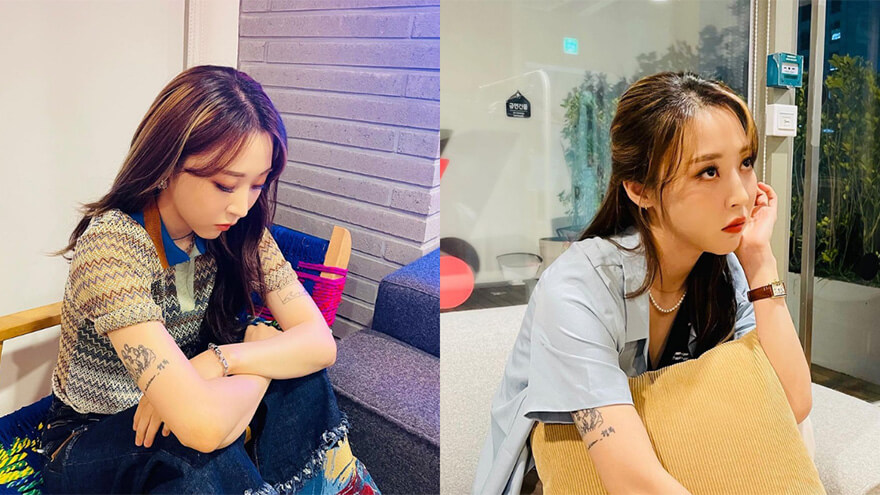 In total, Moonbyul has around six known tattoos so far. 
Some include her mother's English name "Sophy" on her finger, a butterfly on her wrist, and a "VIVA LA VIDA" tattoo on her collarbone.
JESSI
Jessi has around eight tattoos on her body.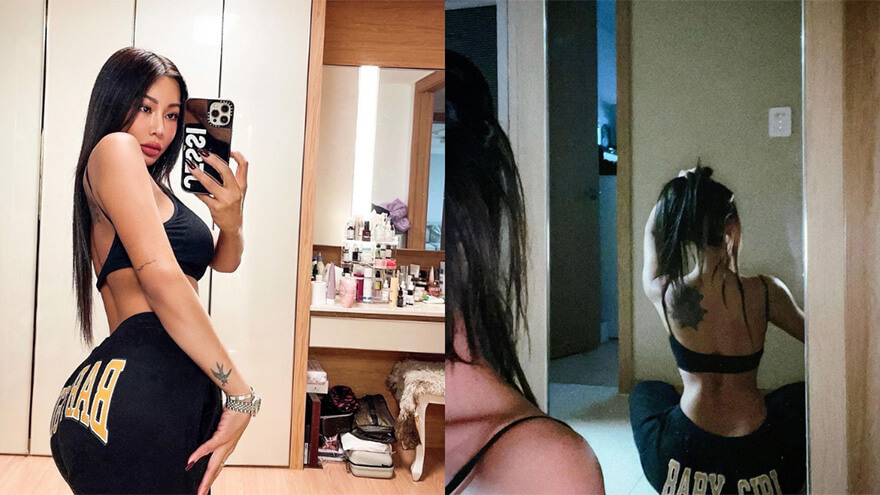 The body art of a swallow is probably the most special tattoo Jessi has inked on her body as it is dedicated to her fans, which she called "Jebbie".
AMBER LIU
Amber Liu from the group f(x) is an androgynous idol who has been rocking a full-sleeve tattoo.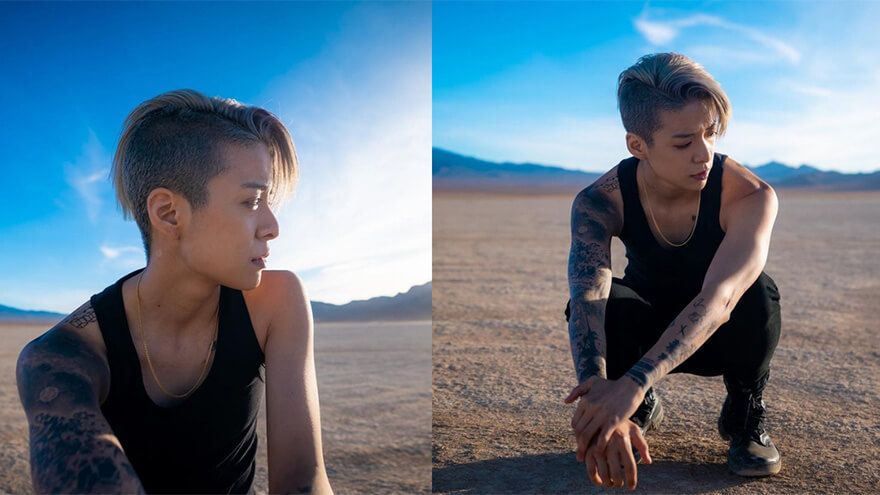 The tattoos on their bodies annotate some delightful and, also, spontaneous memories that Amber wants to keep remembering. 
JIYEON (T-ARA)
T-ARA Jiyeon got the inspiration for her back tattoo from Hyuna.
It says "My parents are my heart and soul," showing her deep love for the parents that raised her.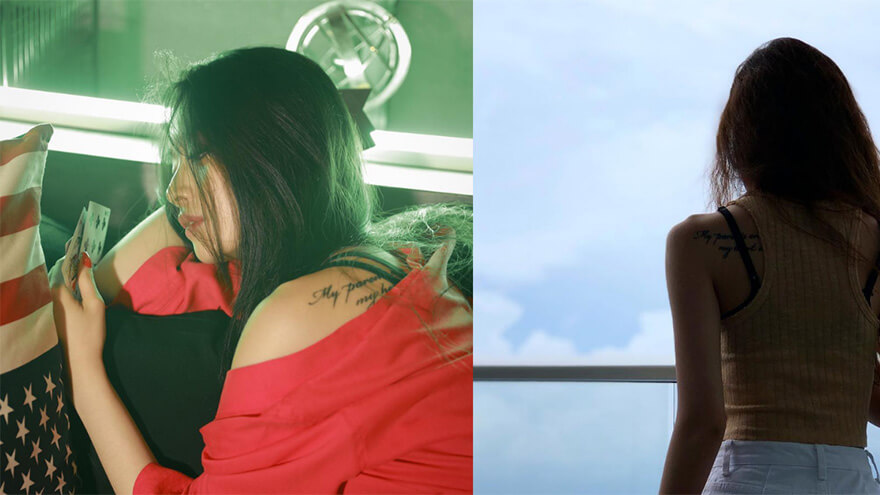 Aside from this, Jiyeon also has tattoos on the side of her rib, spine, and lower back.
SOYEON ((G)I-DLE)
(G)I-DLE's Soyeon has about two tattoos that she has shown to the public and fans.
One is a tattoo in the shape of an electrocardiogram (heartbeat) that expresses Soyeon's wish to participate in long-term donation.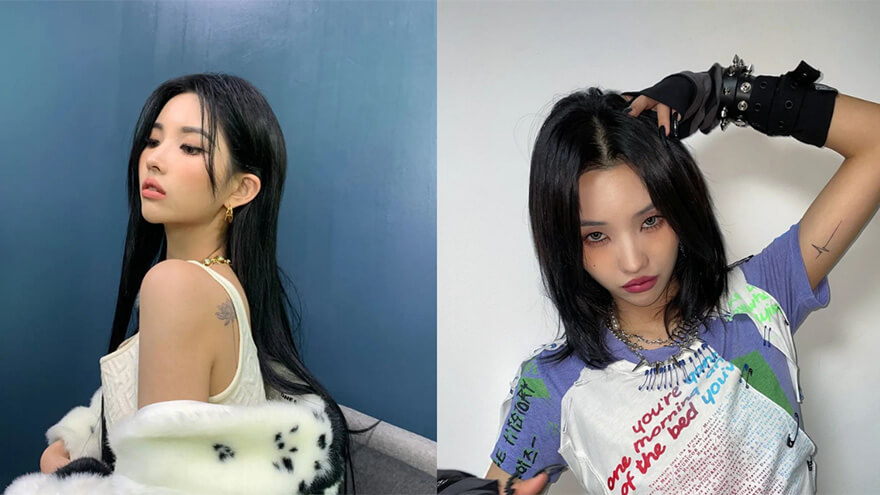 Another one is a lotus on her back, although Soyeon has shown her regrets about getting this tattoo.
But that's normal for everyone, isn't it?
YOOJUNG (WEKI MEKI)
Weki Meki's Yoojung has a sunflower tattoo on her back neck.
This tattoo probably is the most special for the idol because it is the flower Yoojung drew for her grandfather before he passed away.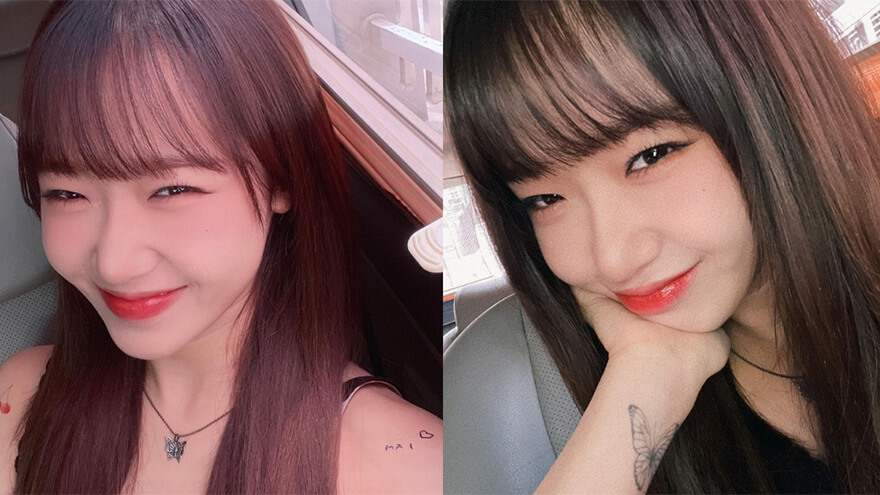 Below the sunflower ink is the phrase "Always be modest," perhaps an advice Yoojung got from her beloved grandfather.
Aside from this meaningful set of tattoos, Yoojung also has a butterfly body art on her wrist and some loose inks on her shoulders.
HYERIN (EXID)
EXID's Hyerin has a tattoo that says "heart over matter," an altered phrase of the proverb "mind over matter."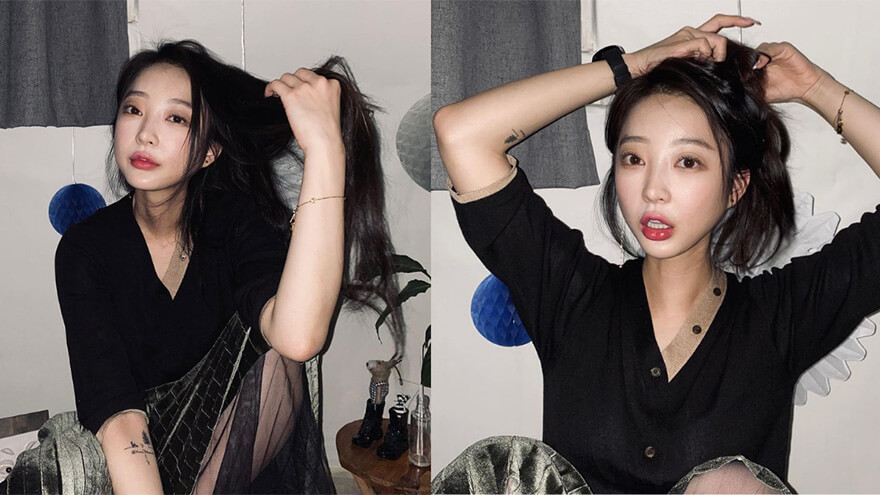 Fans first saw this tattoo on one of EXID's live performances.
Boy Idols With Tattoos
Here are South Korean male celebrities who aren't afraid to show their body art to both their fans and the public.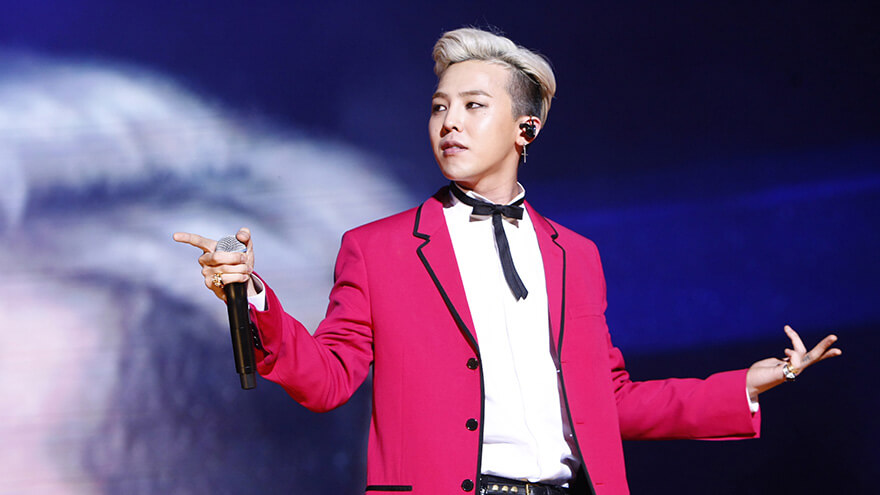 JAY PARK
Jay Park is known in the Korean music industry for having numerous tattoos.  
Since his departure from 2PM, he has since received several criticisms from the public.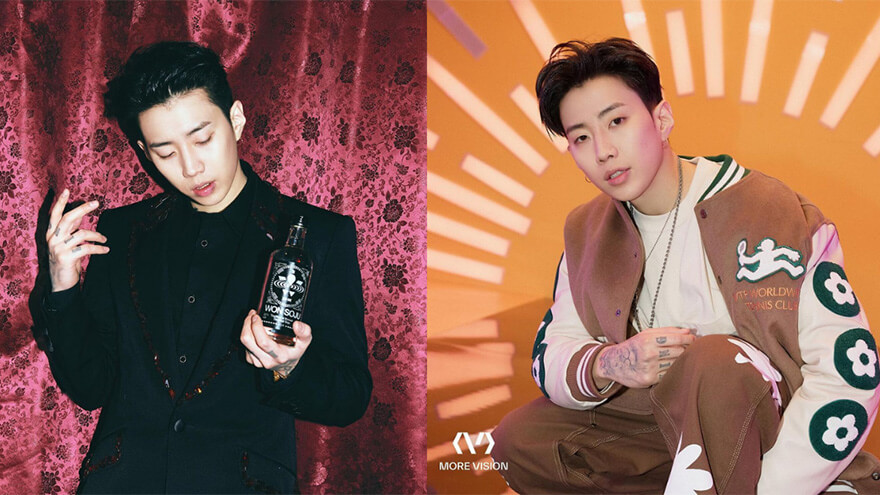 But despite his image, he is actually a true family man.
Two of his body arts are tributes to his family: "19 55 60 87 89" and "Always come proper."
The former stands for the birth dates of Jay Park's family members, while the latter is the values his family has taught him.
Meanwhile, the HIGHR Music CEO's first-ever tattoo is a tribute to his b-boy crew, "AOMG."
G-DRAGON (BIGBANG)
KPop icon and the leader of BIGBANG, G-Dragon, is no stranger to needles and ink throughout his career.
You can always spot a tattoo or two on his body from almost every angle.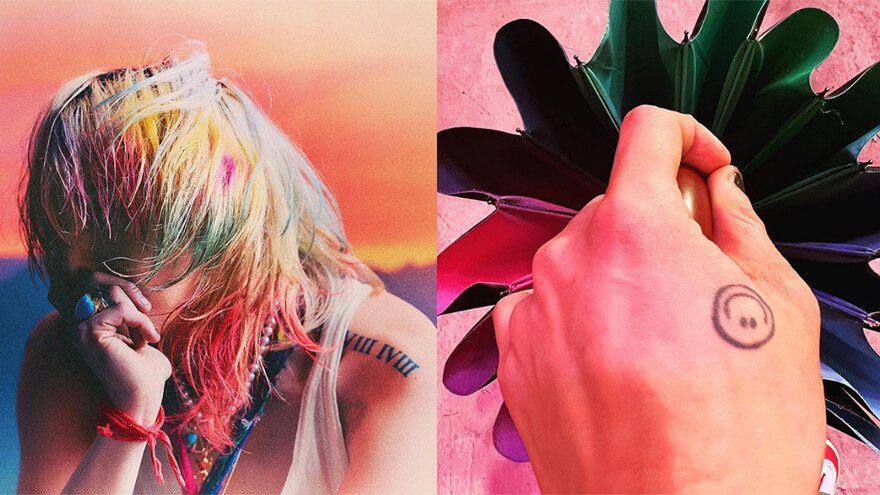 Some of it includes "Vita Dolce" and a red heart inspired by an American graffiti artist, Keith Haring.
Each tattoo represents good life and support for social causes and activism.
TAEYANG (BIGBANG)
BIGBANG's Taeyang has the second most number of tattoos in the group, following GD.
Most of his tattoos represent his faith and beliefs in life.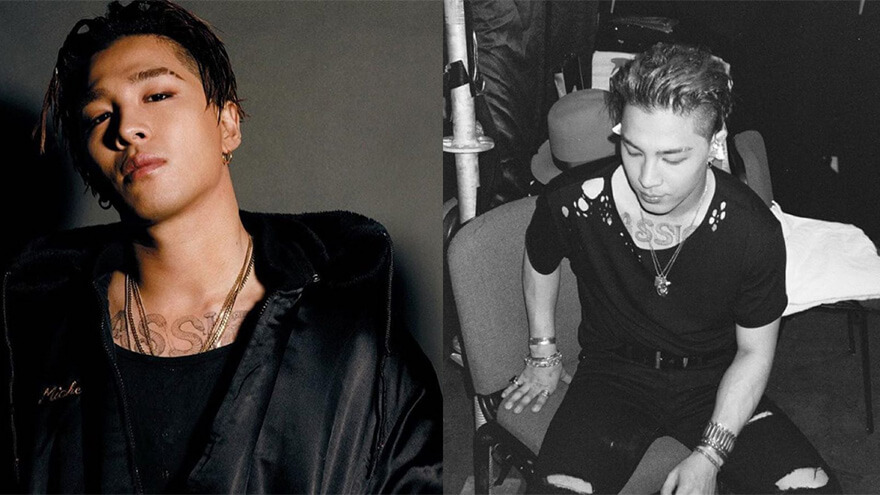 One of the meaningful inks Taeyang has on his body is an oversized cross on his side ribs to the top of his waist.
Another one is the word 'PASSION,' stylized by the crown of Jesus' thorns, nails, and snakes, tattooed on Taeyang's upper chest.
CHANYEOL (EXO)
Chanyeol has "L-1485" inked on his side wrist, which holds a special meaning for both him and EXO-Ls, their fandom name.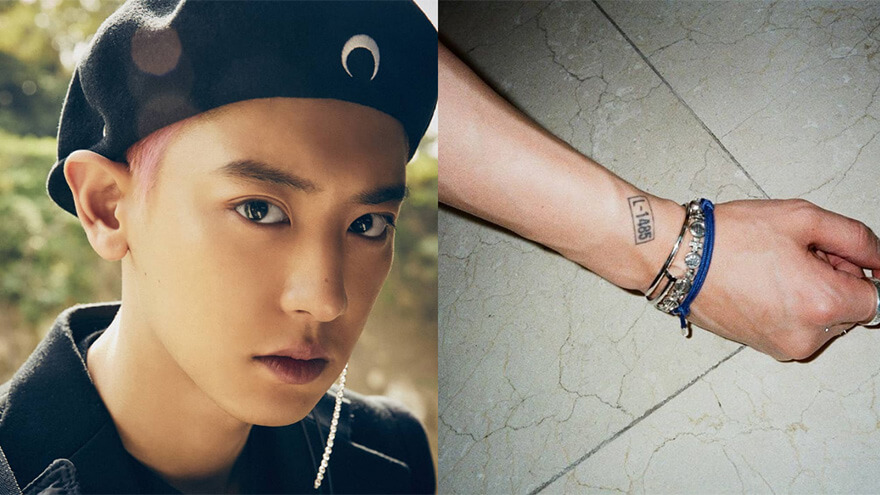 "L" stands for his fans, and the numbers next to it stand for the date their fandom was established (August 5, 2014).
ZICO (BLOCK B)
Since his debut, Zico has had this rebellious image.
However, he is also a devoted child who shows his love for his mother through his tattoos.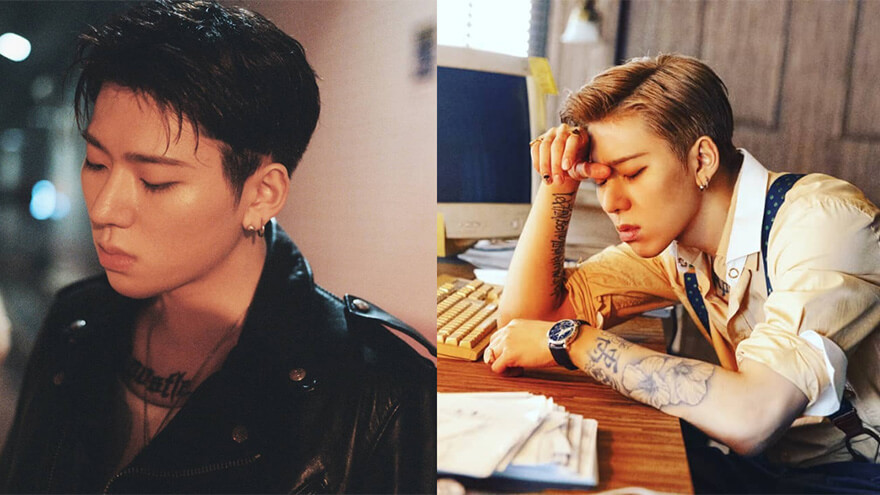 For their group's, Block B, first win, Zico had the date tattooed on his skin to commemorate this their hard-earned victory. 
And, on his arm, Zico has a yellow ribbon inked to remember the Sewol Ferry tragedy that happened on the morning of April 2014.
JUNGKOOK (BTS)
This list won't be complete without the tattoos of BTS' Jungkook!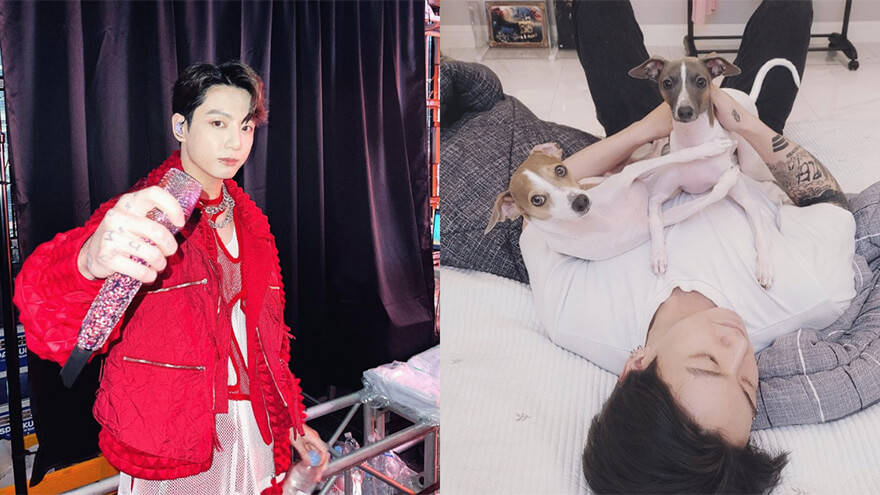 The group's maknae has the word "ARMY" tattooed on his knuckles, dedicating it to fans worldwide.
JIMIN (BTS)
ARMYs have only spotted four tattoos on Jimin.
One is "13," Jimin's favorite number; another is a "Young Forever" elbow tattoo.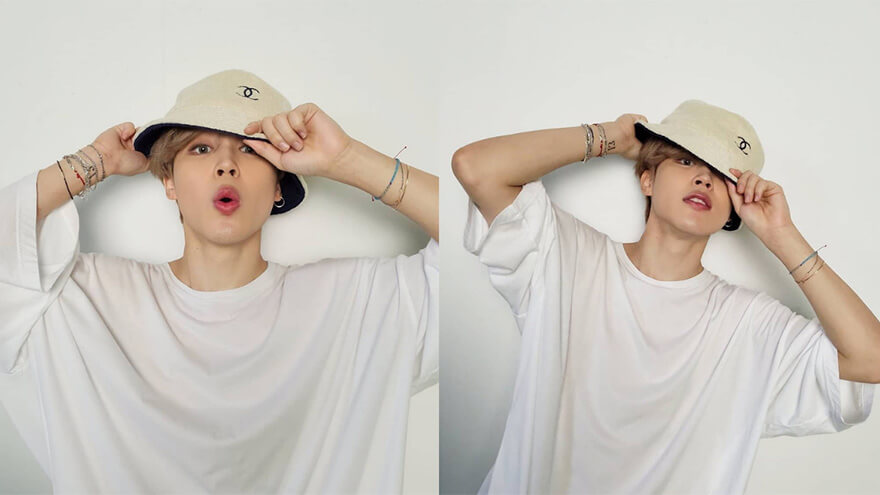 But one tattoo of Jimin, the "NEVERTHELESS" rib tattoo, remains one of the biggest mysteries in the fandom.
Fans are still debating whether the tattoo is real or not.
Only Jimin can answer that!
TEN (WAYV)
During one of the group's fans' signing events, Ten revealed that he is interested in learning the art of tattoos.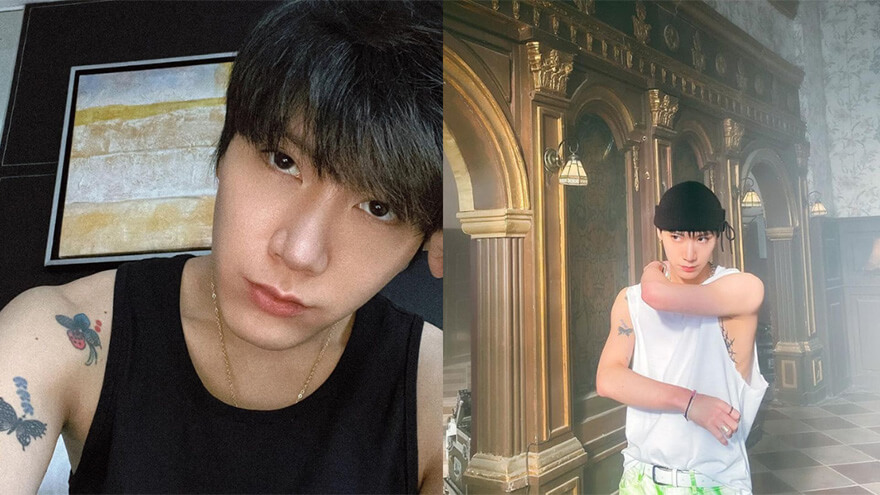 And true to his word, fans have spotted tattoos inked on Ten's arm and chest in their concert in England.
JACKSON WANG (GOT7)
GOT7's Jackson has a lot of meaningful tattoos on his body.
Some include a Chinese character that translates to "luck," a Chinese lantern, his zodiac and birth date, his parents, a fencing sword, and the Olympics logo.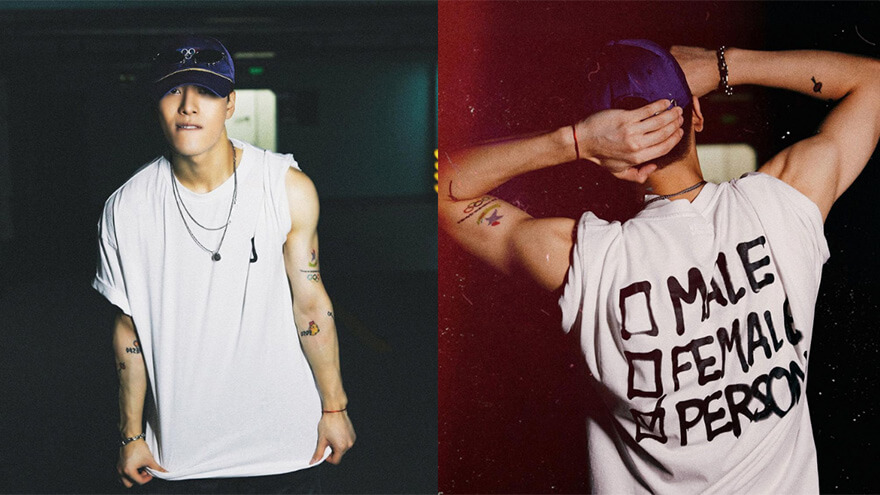 Jackson Wang was Junior Sabre Fencer for Hong Kong's fencing team before he became an idol, thus the homage to his athletic past. 
YUGYEOM (GOT7)
Yugyeom seems fond of getting matching tattoos with his idol friends and members.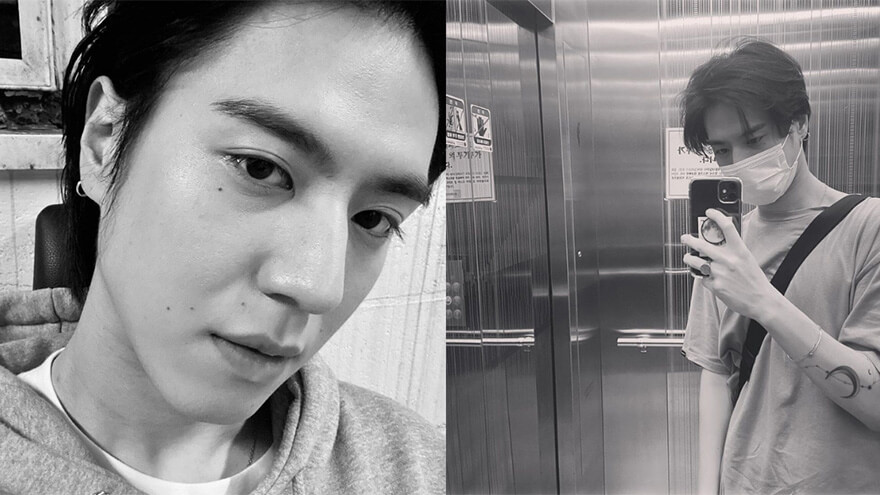 Some of Yugyeom's 19 tattoos include those that he got with BTS Jungkook and GOT7 Mark.
MARK (GOT7)
GOT7's Mark has about five tattoos on his body.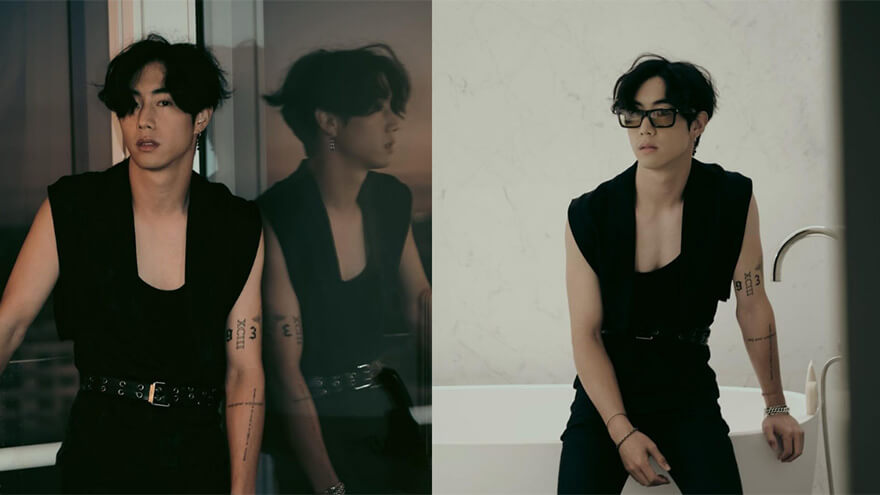 A dove, hibiscus, the phrases "STAY TRUE" and "BE REAL," a smiley face, and a butterfly are the tattoos that are beautifully inked all over Mark's skin.
E'DAWN
Both E'Dawn and his girlfriend Hyuna sport several tattoos on their bodies.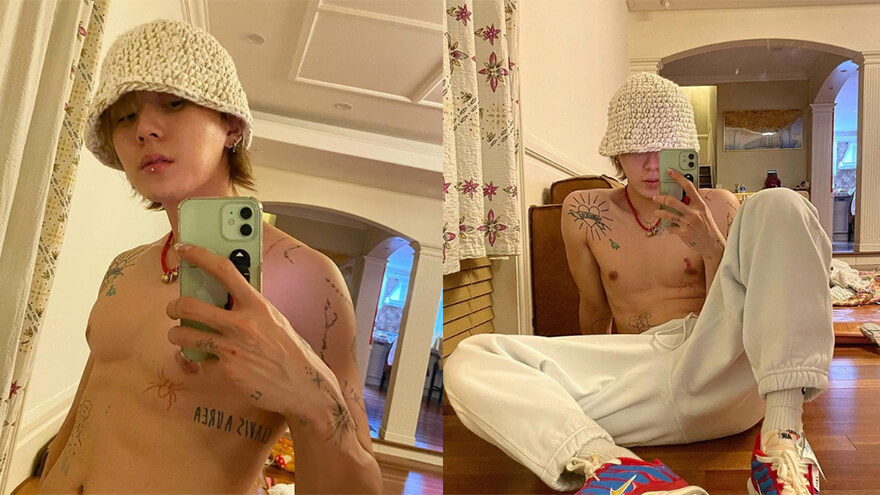 Some include a number 10 on his hip, which fans speculate to be a tribute to the members of his former boy group Pentagon and the Roman numerals MCMXCIV VI I near his collarbone, which allude to E'Dawn's birthday 1994-6-1.
TAEYONG (NCT 127)
On one of Taeyong's live broadcasts, he revealed his five tattoos to the fans.
It includes a compass tattoo with only the letters N and S inked with it.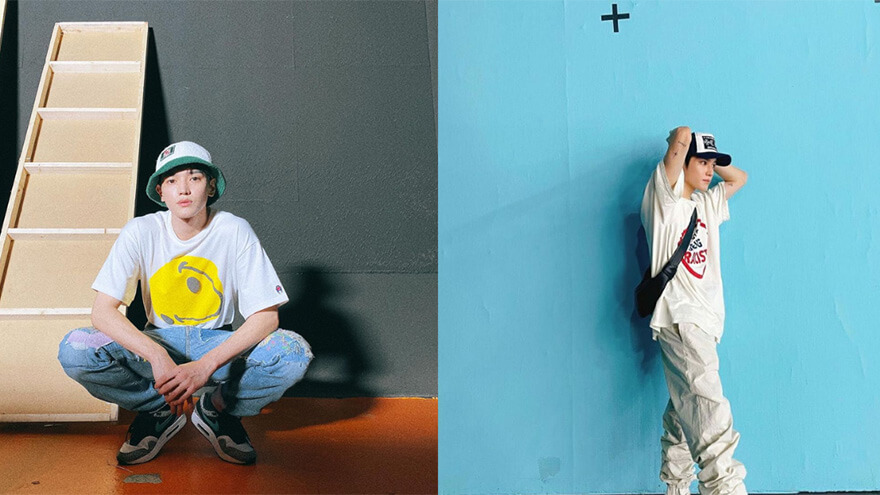 This unique tattoo represents the two groups Taeyong is currently in, NCT and SuperM.
CHANGSUB (BTOB)
BTOB's Changsub had about three tattoos when he decided not to add anything to it anymore after his mother showed her disappointment in his body art.
These tattoos were placed on his shoulder, chest, and forearm.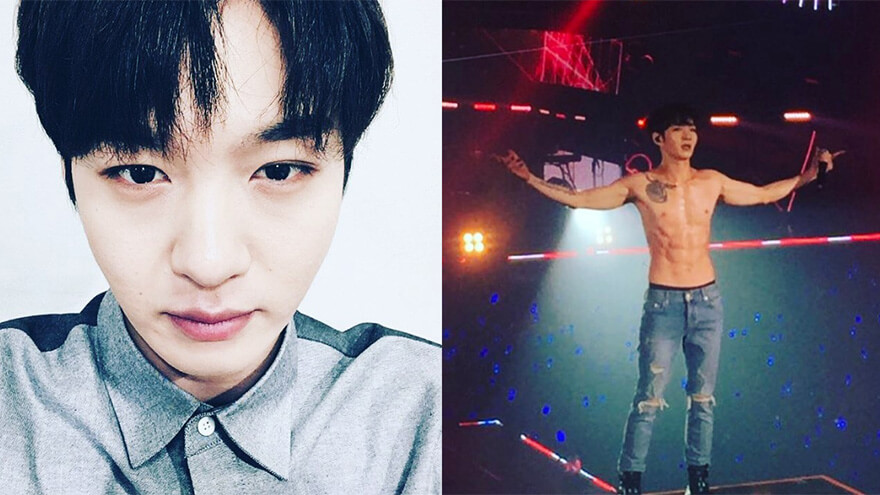 "Do not be defeated from yourself," "Make a change," and "So don't be dismayed, for I'm your God" are the words that are sprawled all over Changsub's upper body.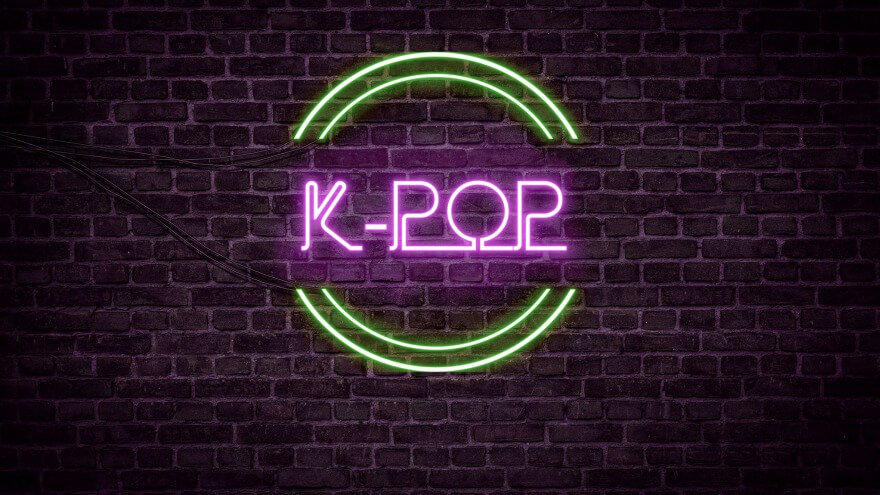 And that's it for these K-pop idols with tattoos!
If you're looking for a sign to have your skin inked, this is it!
It's time for you to express yourselves freely to the world, giving no care to what other people would say.
Your biases will undoubtedly cheer for you on that that.
Be sure to also take a look at our article about K-pop idols with piercings, whether you're looking to get ideas, or just want to know a bit more on your favorite stars.
Let us know if you have a plan to make a body art too, and don't hesitate to join us on Discord for more updates!